Let's take luxury travel in a different direction: into the bowels of Italy. Not necessarily spelunking in the strict sense, but simply touring. Caves hold a mysterious fascination that pings a bell of intrigue in all of us. A benefit of Italian caves is that if you focus your travel around caves during the day, you will be close enough to civilization upon exiting, making it simple to find a nice bar afterward from which you can sip a cool martini and reflect on your day's adventure.
Neptune's Cave
Neptune's Cave is a stunning example of stalactites and stalagmites creating the barbed interior of this wondrous cavern. Located on the island of Sardinia near the town of Alghero, it was named after King Neptune, the Roman God of the Sea, by its 18th-century discoverers. There are two ways to gain access, the more pleasant way will be by sea. You can rent a guide with a boat that will whisk you along the cliffy Sardinian coastline and park you at the entrance of the cave. The other way is by car. After parking, you will climb 650+ steps to the cave entrance. Either way, you will arrive to see the interior of this nearly 1-kilometer-long cave. Within the cave is a serene lake with a white sandy beach, and natural concrete pillars of staggering height. This cave was used as the movie set in 1978 for the movie "Island of the Fishmen." BONUS: If you are a diver, Neptune's Cave is surrounded by a multitude of popular underwater caves to wet your flippers in.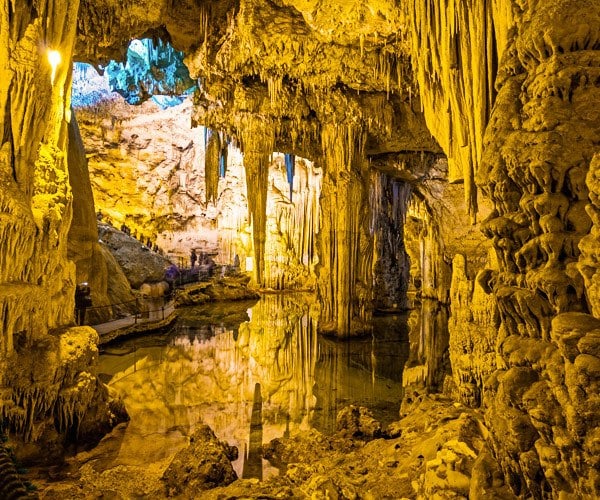 Addaura
This Upper Paleolithic (40,000-14,000 years ago) rock art looks oddly similar to pages in my own sketchbook. Located in Palermo's Mount Pellegrino in Sicily, Addaura is merely one of three grottoes that make up this cave complex. Inside, the remains of a dwarf elephant had been found. (Dwarfed elephants have been found on other islands around the world. It seems that because food sources are quite limited on islands, large animals grow extinct quickly, and only the dwarfed survive.) If you happen to visit Palermo's Regional Archaeological Museum first, you will see the tools, sculptures, and human bones that were found in this cave. Addaura sits about 230 feet above sea level. In 1943, allied troops went to Sicily to wrestle her free from the Nazi grip. An explosion in the complex reduced a cave wall to rubble, exposing this chamber of human figure art.
Blue Grotto
If the Isle of Capri off the coast of Sorrento isn't attractive enough, it also offers the Blue Grotto as another feast for your eyes. Under the main entrance to the cave is another entrance that let's light in. This underwater opening filters out the red color and combined with the light entering the main entrance, the cave appears to have a bright blue iridescent glow. The cave is approximately 60 meters long and 25 meters wide. During the ancient Roman days, Emperor Tiberius used this as his private swimming hole, where several statues were erected in the pool itself. During the 1700's, the Grotto was left alone since the locals thought it was inhabited by monsters and witches. Today, a visit to the Grotto will find you neither monsters nor witches, but you will come home with some beautiful photos.
Grotto di Ispinigoli
The lustrous and choppy waters of the Mediterranean around the island of Sardinia have created some of the more interesting cave complexes in Italy, the Grotto di Ispinigoli being the largest of them. Within this cave is the tallest stalagmite in Europe, standing at nearly 125 feet tall. Inside the cave is the Abyss of the Virgins, plummeting to around 200 feet deep. The Grotto leads to a system of tunnels and caves that run in many directions. These caves were once used as tombs for the Nuragic people that existed on Sardinia from 1900-730 bce. Bronze age jewelry and human bones have been found in these caves as well.
Grotte di Frasassi
Located in Genga, Italy, her distinctive white regal stalagmites make the Frasassi Caves a unique caving destination. But don't stop there. With 7.5 miles of caves and tunnels, Frasassi offers a huge variety of cavernous views to impress. You will be able to explore only a small portion of them, but you will emerge super satisfied. On the way through, you will meet formations with names such as Niagara Falls, Organ Pipes, the Giant Roman Head, and the Candlesticks. Within Frasassi you will explore several cave chambers: the Cave of Bats, the Room of the Infinite, and the Great Cave of the Wind which is vast enough to house a Cathedral. Frasassi is a must-see if you are in this part of the country, approximately 150 miles north of Rome.
Ear of Dionysus
Caravaggio, a renowned Renaissance Painter from Venice, gave the name to this cave. Borrowing from the fact that the cave has a splendid reputation for flawless acoustics, the name stuck. According to the legend, this was the cave in which Dionysus would imprison political dissidents because the excellent acoustics made it easy to eavesdrop on their conversations within. This is actually a man-made cave, dug out to store water for the city of Syracuse in ancient times. Today, due to seismic agitation, access to the perfect point of sound cannot be accessed inside the cave, but even so, the echoes of your thoughts can be heard perfectly throughout. Mwa-ah-ah!
Grotto di Pastena
This cave boasts two distinct personalities: a dry area (as seen here), and a wet section (not shown). A tour through the nearly 3,000 feet of the dry cave is quite picturesque. This takes you through huge chambers of dazzling stalactite curtains and sparkling formations to the area where water runs through it. The winter water rushing through the cave creates an unexpected drama. BONUS: if you visit at the right time, you will see a pristine waterfall inside this cave!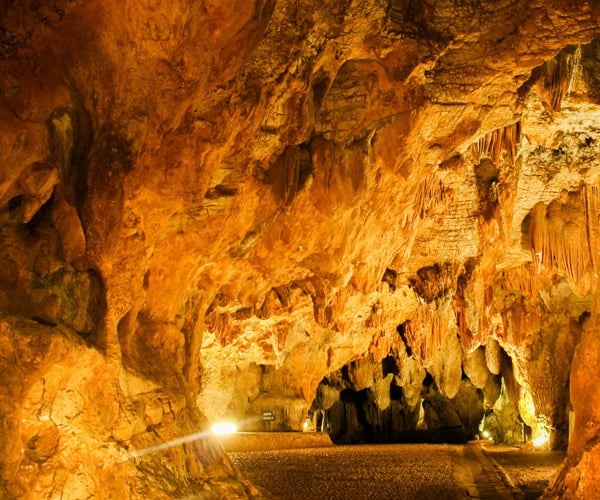 Cave Restaurant
After spelunking through this article, I know you must have a cavernous appetite. So here is the most perfect place to dine with your sweetheart. It is thought to be one of THE MOST romantic restaurants in the world, the Grotta Palazzese has hosted royalty and tourists alike for nearly 3 centuries. Located in Polignano a Mare, Puglia, it is lit by the natural aqua-marine reflections off the water. I cannot think of a more appropriate place to end our tour and this article.
CAUTION
A word of warning to the unexpecting tourist: this restaurant is one of the places that charges a hefty price that you must guarantee WHEN YOU MAKE YOUR RESERVATION. In other words, when you call to make a reservation, they will REQUIRE you to give a credit card number that will guarantee that each of your guests will buy a certain amount of food/drinks. This will likely be well over $100 per person that is required. This seems to happen frequently in some of the more sought-after locations throughout Italy, and is usually frequented by tourists. (Did we go to this restaurant when we visited here? No we did not! I do not believe in ripping people off, no matter how lovely the location. Fabulous food and scenery is super abundant all over the country, and at fair prices. But this was our personal choice.)
Buon appetito, and ciao!
NOTE: This article was written by Patty Civalleri for ALuxuryTravelBlog.com